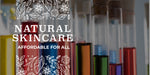 How We Make Premium Natural Skincare for Affordable Prices
UXB makes spa-quality skincare at high street prices. We can only do that because we sell direct to you over the internet. Because we don't have the overhead of shops we can offer amazing prices on prosumer skincare that might cost 2 or 3 times as much from a salon or spa. 
Big brands have to charge lots of money for their products because they have to support huge marketing budgets, fancy packaging and off-the-shelf formulations from labs on the continent. 
UXB is different. We make all of our products ourselves in London - cutting out the middleman. We choose packaging that is effective and when possible kind to the planet. You won't find us shipping 50ml of cream in a massive plastic tub whose only job is to make the product look more plentiful 
At UXB we choose ingredients and source suppliers with an eye on efficacy and sustainability. We are a small company with low overheads and we see it as our job to make you the best quality products for the lowest price (while making sure we can put food on the table).  smil