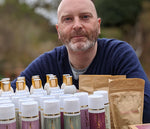 The outpouring of love towards the health service in recent weeks has been amazing. It's only in times of hardship do we fully appreciate the risks and emotional turmoil that our doctors, nurses and other care professionals put themselves through. 
Since COVID-19 came to our country and it suddenly dawned on us all how bad this virus, with no cure or prevention could be I've been thinking about how we all react in times of trouble. Tommy cooper once said "People are like tea bags - you don't know what they are like until you put them in hot water". Every one of our NHS staff who walk into a hospital, care home or surgery every day has proved themselves to be superhuman. 
I wanted to do something for them. They must be tired and sore after being on their feet all day. Their skin must be raw from the disinfectant and layers of protective clothing. Today I am delivering a little good will parcel to my local student nurse accommodation at Hillingdon hospital. It's not much - some cleanser, bath salts and soaps - but I hope it lets them know that we're all behind them and appreciate what they do. 
The best thing we can do is stay inside and stop the spread so I will be in and out of there faster than a very fast thing wearing a mask and gloves. 
I hope you are all safe and your families are taking this time to get to know each other a bit better. 
Stay safe.
Simon