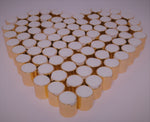 Return 5 Caps - Get a Free Product
Our gold caps are pretty, but they are hard to recycle. Return them to us where we'll separate the metal and plastic and we'll reward you with a free product of your choice!
Recycling is important to us. We one day how to have all of our products in biodegradable or very very easily recyclable packaging. Until we can reliably do that we will put in the effort to make our products as ecologically friendly as possible. 
Post your caps to:
UXB
27 Culvert lane
Uxbridge
UB8 2XB
Remember to include your name, address and the product you'd like sent by return post.